Paket: desktopnova-module-xfce (0.8-2)
Länkar för desktopnova-module-xfce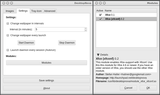 Debianresurser:
Hämta källkodspaketet desktopnova:
Ansvarig:
Externa resurser:
Liknande paket:
Xfce module for DesktopNova
DesktopNova changes the desktop background image after an adjustable time. It can choose the images from single files and folders (with or without subfolders). An autostart feature is also implemented.
This package enables Xfce support for DesktopNova.
Andra paket besläktade med desktopnova-module-xfce
Hämta desktopnova-module-xfce
Hämtningar för alla tillgängliga arkitekturer

| Arkitektur | Paketstorlek | Installerad storlek | Filer |
| --- | --- | --- | --- |
| kfreebsd-i386 | 14,4 kbyte | 120,0 kbyte | [filförteckning] |