Paket: njam (1.25-5)
Länkar för njam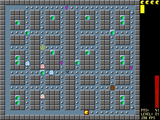 Debianresurser:
Hämta källkodspaketet njam:
Ansvarig:
Externa resurser:
Liknande paket:
pacman-like game with multiplayer support
Njam is a pacman-like game with many features, including networked multiplayer mode. It is available on many platforms.
Features: o Single and multiplayer mode (local or network) o Cooperative and competetive multiplayer modes o Customizable level skins o Many different levels o Integrated level editor o Great music and sound effects .
Andra paket besläktade med njam
Hämta njam
Hämtningar för alla tillgängliga arkitekturer

| Arkitektur | Paketstorlek | Installerad storlek | Filer |
| --- | --- | --- | --- |
| i386 | 1.400,6 kbyte | 4.056,0 kbyte | [filförteckning] |