Paket: palapeli (4:4.4.5-1)
Länkar för palapeli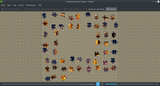 Debianresurser:
Hämta källkodspaketet kdegames:
Ansvariga:
Externa resurser:
Liknande paket:
jigsaw puzzle game
Palapeli is a jigsaw puzzle game. Unlike other games in that genre, you are not limited to aligning pieces on imaginary grids. The pieces are freely moveable.
Palapeli is the Finnish word for jigsaw puzzle.
This package is part of the KDE games module.
Andra paket besläktade med palapeli
Hämta palapeli
Hämtningar för alla tillgängliga arkitekturer

| Arkitektur | Paketstorlek | Installerad storlek | Filer |
| --- | --- | --- | --- |
| armel | 165,5 kbyte | 564,0 kbyte | [filförteckning] |