Paket: literki (0.0.0+20100113.git1da40724-1)
Länkar för literki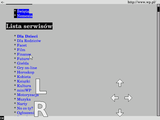 Debianresurser:
Hämta källkodspaketet literki:
Ansvariga:
Externa resurser:
Liknande paket:
Keyboard with configurable layout and transparency
Literki is a full qwerty keyboard with configurable layout and always-on functionality by usage of transparency. Applications do not need to redraw and popping up the keyboard is therefore very fast.
In addition to keyboard, literki comes with touchpad and scroll buttons.
Andra paket besläktade med literki
Hämta literki
Hämtningar för alla tillgängliga arkitekturer

| Arkitektur | Paketstorlek | Installerad storlek | Filer |
| --- | --- | --- | --- |
| amd64 | 1.451,0 kbyte | 3.260,0 kbyte | [filförteckning] |