Paket: lostirc (0.4.6-4.2) [debports]
Länkar för lostirc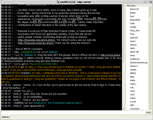 Debianresurser:
Hämta källkodspaketet :
Hittades ej
Ansvariga:
Externa resurser:
Liknande paket:
simple gtk-based IRC client
LostIRC is a simple, yet very useful IRC-client. It has features such as tab-autocompletion, multiple server support, automatic joining of servers/channels and DCC sending which should cover the needs of most people. The client is 100% keyboard-controllable, and uses the gtkmm GUI library.
Andra paket besläktade med lostirc
Hämta lostirc
Hämtningar för alla tillgängliga arkitekturer

| Arkitektur | Paketstorlek | Installerad storlek | Filer |
| --- | --- | --- | --- |
| riscv64 (inofficiell anpassning) | 200,7 kbyte | 750,0 kbyte | [filförteckning] |