Paket: keepnote (0.7.8-1.1)
Länkar för keepnote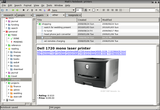 Debianresurser:
Hämta källkodspaketet keepnote:
Ansvarig:
Externa resurser:
Liknande paket:
cross-platform note-taking and organization application
With KeepNote, you can store your class notes, TODO lists, research notes, journal entries, paper outlines, etc in a simple notebook hierarchy with rich-text formatting, images, and more. Using full-text search, you can retrieve any note for later reference.
KeepNote is designed to be cross-platform (implemented in Python and PyGTK) and stores your notes in simple and easy to manipulate file formats (HTML and XML). Archiving and transferring your notes is as easy as zipping or copying a folder.
Andra paket besläktade med keepnote
sug:

python-gnome2-extras

Paketet inte tillgängligt
Hämta keepnote
Hämtningar för alla tillgängliga arkitekturer

| Arkitektur | Paketstorlek | Installerad storlek | Filer |
| --- | --- | --- | --- |
| all | 534,9 kbyte | 2.616,0 kbyte | [filförteckning] |