Paket: kde-standard (5:102)
Länkar för kde-standard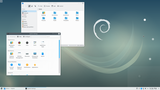 Debianresurser:
Hämta källkodspaketet meta-kde:
Ansvariga:
Externa resurser:
Liknande paket:
KDE Plasma Desktop and standard set of applications
The KDE Software Compilation is the powerful, integrated, and easy-to-use Free Software desktop platform and suite of applications.
This metapackage includes the KDE Plasma Desktop and a selection of the most common used applications in a standard KDE desktop.
Andra paket besläktade med kde-standard
rec:

konq-plugins (>= 4:17.08.3)

plugins for Konqueror, the KDE file/web/document browser

rec:

plasma-nm (>= 4:5.10) [ej hurd-i386, kfreebsd-amd64, kfreebsd-i386]

Plasma5 networkmanager library.
sug:

skanlite

image scanner based on the KSane backend
Hämta kde-standard
Hämtningar för alla tillgängliga arkitekturer

| Arkitektur | Paketstorlek | Installerad storlek | Filer |
| --- | --- | --- | --- |
| alpha (inofficiell anpassning) | 15,1 kbyte | 21,0 kbyte | [filförteckning] |
| amd64 | 15,1 kbyte | 21,0 kbyte | [filförteckning] |
| arm64 | 15,1 kbyte | 21,0 kbyte | [filförteckning] |
| armel | 15,1 kbyte | 21,0 kbyte | [filförteckning] |
| armhf | 15,1 kbyte | 21,0 kbyte | [filförteckning] |
| hppa (inofficiell anpassning) | 15,1 kbyte | 21,0 kbyte | [filförteckning] |
| hurd-i386 | 15,1 kbyte | 21,0 kbyte | [filförteckning] |
| i386 | 15,1 kbyte | 21,0 kbyte | [filförteckning] |
| kfreebsd-amd64 | 15,1 kbyte | 21,0 kbyte | [filförteckning] |
| kfreebsd-i386 | 15,1 kbyte | 21,0 kbyte | [filförteckning] |
| m68k (inofficiell anpassning) | 15,1 kbyte | 21,0 kbyte | [filförteckning] |
| mips | 15,1 kbyte | 21,0 kbyte | [filförteckning] |
| mips64el | 15,1 kbyte | 21,0 kbyte | [filförteckning] |
| mipsel | 15,1 kbyte | 21,0 kbyte | [filförteckning] |
| powerpcspe (inofficiell anpassning) | 15,1 kbyte | 21,0 kbyte | [filförteckning] |
| ppc64 (inofficiell anpassning) | 15,1 kbyte | 21,0 kbyte | [filförteckning] |
| ppc64el | 15,1 kbyte | 21,0 kbyte | [filförteckning] |
| riscv64 (inofficiell anpassning) | 15,1 kbyte | 21,0 kbyte | [filförteckning] |
| s390x | 15,1 kbyte | 21,0 kbyte | [filförteckning] |
| sh4 (inofficiell anpassning) | 15,1 kbyte | 21,0 kbyte | [filförteckning] |
| sparc64 (inofficiell anpassning) | 15,1 kbyte | 21,0 kbyte | [filförteckning] |
| x32 (inofficiell anpassning) | 15,1 kbyte | 21,0 kbyte | [filförteckning] |