Paket: grub-efi-amd64 (2.12~rc1-10 och andra)
Länkar för grub-efi-amd64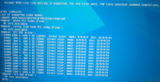 Debianresurser:
Hämta källkodspaketet grub2:
Ansvariga:
Externa resurser:
Liknande paket:
GRand Unified Bootloader, version 2 (EFI-AMD64 version)
GRUB is a portable, powerful bootloader. This version of GRUB is based on a cleaner design than its predecessors, and provides the following new features:

 - Scripting in grub.cfg using BASH-like syntax.
 - Support for modern partition maps such as GPT.
 - Modular generation of grub.cfg via update-grub.  Packages providing GRUB
   add-ons can plug in their own script rules and trigger updates by invoking
   update-grub.

This is a dependency package for a version of GRUB that has been built for use with the EFI-AMD64 architecture, as used by Intel Macs (unless a BIOS interface has been activated). Installing this package indicates that this version of GRUB should be the active boot loader.
Andra paket besläktade med grub-efi-amd64
Hämta grub-efi-amd64
Hämtningar för alla tillgängliga arkitekturer

| Arkitektur | Version | Paketstorlek | Installerad storlek | Filer |
| --- | --- | --- | --- | --- |
| amd64 | 2.12~rc1-10 | 44,8 kbyte | 184,0 kbyte | [filförteckning] |
| i386 | 2.12~rc1-10 | 44,8 kbyte | 184,0 kbyte | [filförteckning] |
| x32 (inofficiell anpassning) | 2.04-9 | 201,4 kbyte | 335,0 kbyte | [filförteckning] |