[ sid ]
Paket: gconf-cleaner (0.0.3-5) [debports]
Länkar för gconf-cleaner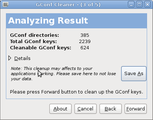 Debianresurser:
Hämta källkodspaketet :
Hittades ej
Ansvariga:
Externa resurser:
Liknande paket:
GConf database cleaner
GConf Cleaner is a tool to clean your GConf database up that is possibly cluttered with unnecessary or invalid keys.
This tools scans the user's GConf database and lists the keys that are not associated with a schema (i.e. they are likely no longer useful). Then it allows the user to backup these keys and remove them from the database.
Andra paket besläktade med gconf-cleaner
Hämta gconf-cleaner
Hämtningar för alla tillgängliga arkitekturer

| Arkitektur | Paketstorlek | Installerad storlek | Filer |
| --- | --- | --- | --- |
| arm64 (inofficiell anpassning) | 27,6 kbyte | 157,0 kbyte | [filförteckning] |