Paket: eog (3.34.0-1 och andra)
Länkar för eog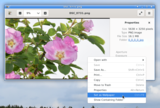 Debianresurser:
Hämta källkodspaketet eog:
Ansvariga:
Externa resurser:
Liknande paket:
Eye of GNOME graphics viewer program
eog or the Eye of GNOME is a simple graphics viewer for the GNOME desktop which uses the gdk-pixbuf library. It can deal with large images, and zoom and scroll with constant memory usage. Its goals are simplicity and standards compliance.
Andra paket besläktade med eog
rec:

librsvg2-common

SAX-based renderer library for SVG files (extra runtime)

rec:

yelp

Help browser for GNOME
Hämta eog
Hämtningar för alla tillgängliga arkitekturer

| Arkitektur | Version | Paketstorlek | Installerad storlek | Filer |
| --- | --- | --- | --- | --- |
| alpha (inofficiell anpassning) | 3.28.4-2+b1 | 4.972,7 kbyte | 11.919,0 kbyte | [filförteckning] |
| amd64 | 3.34.0-1 | 2.836,5 kbyte | 9.728,0 kbyte | [filförteckning] |
| arm64 | 3.34.0-1 | 2.821,6 kbyte | 9.719,0 kbyte | [filförteckning] |
| armel | 3.34.0-1 | 2.809,2 kbyte | 9.621,0 kbyte | [filförteckning] |
| armhf | 3.34.0-1 | 2.810,9 kbyte | 9.529,0 kbyte | [filförteckning] |
| hppa (inofficiell anpassning) | 3.28.4-2+b1 | 4.972,0 kbyte | 11.880,0 kbyte | [filförteckning] |
| i386 | 3.34.0-1 | 2.850,7 kbyte | 9.765,0 kbyte | [filförteckning] |
| m68k (inofficiell anpassning) | 3.28.4-2+b1 | 4.961,6 kbyte | 11.768,0 kbyte | [filförteckning] |
| mips64el | 3.34.0-1 | 2.806,8 kbyte | 9.749,0 kbyte | [filförteckning] |
| mipsel | 3.34.0-1 | 2.811,3 kbyte | 9.736,0 kbyte | [filförteckning] |
| powerpcspe (inofficiell anpassning) | 3.28.4-2+b1 | 4.950,6 kbyte | 12.032,0 kbyte | [filförteckning] |
| ppc64 (inofficiell anpassning) | 3.34.0-1 | 2.847,0 kbyte | 10.148,0 kbyte | [filförteckning] |
| ppc64el | 3.34.0-1 | 2.841,9 kbyte | 10.083,0 kbyte | [filförteckning] |
| riscv64 (inofficiell anpassning) | 3.28.4-2+b1 | 4.948,6 kbyte | 11.678,0 kbyte | [filförteckning] |
| s390x | 3.34.0-1 | 2.820,7 kbyte | 9.751,0 kbyte | [filförteckning] |
| sh4 (inofficiell anpassning) | 3.28.4-2+b1 | 4.978,7 kbyte | 11.721,0 kbyte | [filförteckning] |
| sparc64 (inofficiell anpassning) | 3.34.0-1 | 2.806,8 kbyte | 9.711,0 kbyte | [filförteckning] |
| x32 (inofficiell anpassning) | 3.28.4-2+b1 | 4.972,1 kbyte | 11.760,0 kbyte | [filförteckning] |