Paket: cream (0.43-3)
Länkar för cream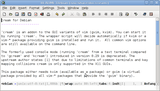 Debianresurser:
Hämta källkodspaketet cream:
Ansvariga:
Externa resurser:
Liknande paket:
VIM macros that make the VIM easier to use for beginners
Cream's motto is "Cream makes the powerful Vim text editor easy!". It brings a completely different look and feel to the VIM for those who are used to more intuitive editors while still preserving the more powerful features of VIM. It features pull-down menus, color themes, bookmarking, auto spellcheck and more. It leaves the default VIM untouched and is started by running 'cream'.
Andra paket besläktade med cream
Hämta cream
Hämtningar för alla tillgängliga arkitekturer

| Arkitektur | Paketstorlek | Installerad storlek | Filer |
| --- | --- | --- | --- |
| all | 743,1 kbyte | 2.156,0 kbyte | [filförteckning] |