Paket: corsix-th (0.62-2 och andra) [contrib]
Länkar för corsix-th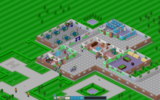 Debianresurser:
Hämta källkodspaketet corsix-th:
Ansvariga:
Externa resurser:
Liknande paket:
Open source clone of Theme Hospital
Theme Hospital was a simulation computer game developed by Bullfrog Productions and published by Electronic Arts in 1997, in which the player designs and operates a hospital.
The game currently requires the original graphics and tries to mimic the original as closely as possible. Therefore you will need a copy of the original game for this package to be useful.
Andra paket besläktade med corsix-th
dep:

corsix-th-data (= 0.60-2) [kfreebsd-i386]

Open source clone of Theme Hospital (data package)

dep:

corsix-th-data (= 0.62-2) [ej kfreebsd-i386]

dep:

libavcodec57 (>= 7:3.2) [kfreebsd-i386]

Paketet inte tillgängligt

eller libavcodec-extra57 (>= 7:3.2)

Paketet inte tillgängligt

dep:

libavcodec58 (>= 7:4.0) [ej kfreebsd-i386]

FFmpeg library with de/encoders for audio/video codecs - runtime files

dep:

libavformat57 (>= 7:3.2) [kfreebsd-i386]

Paketet inte tillgängligt

dep:

libavformat58 (>= 7:4.1) [ej kfreebsd-i386]

FFmpeg library with (de)muxers for multimedia containers - runtime files

dep:

libavutil55 (>= 7:3.2) [kfreebsd-i386]

Paketet inte tillgängligt

dep:

libavutil56 (>= 7:4.0) [ej kfreebsd-i386]

FFmpeg library with functions for simplifying programming - runtime files

dep:

libc0.1 (>= 2.17-91) [kfreebsd-amd64, kfreebsd-i386]

GNU C-bibliotek: Delade bibliotek
också ett virtuellt paket som tillhandahålls av libc0.1-udeb

dep:

libc0.3 (>= 2.12) [hurd-i386]

GNU C-bibliotek: Delade bibliotek
också ett virtuellt paket som tillhandahålls av libc0.3-udeb

dep:

libc6 (>= 2.14) [amd64]

GNU C-bibliotek: Delade bibliotek
också ett virtuellt paket som tillhandahålls av libc6-udeb

dep:

libc6 (>= 2.17) [arm64, ppc64el]

dep:

libc6 (>= 2.4) [ej amd64, arm64, hurd-i386, kfreebsd-amd64, kfreebsd-i386, ppc64el]

dep:

libfreetype6 (>= 2.2.1)

FreeType 2 font engine, shared library files

dep:

libgcc1 (>= 1:3.0) [amd64, arm64, kfreebsd-amd64, mips64el, ppc64el, s390x]

GCC stödbibliotek

dep:

libgcc1 (>= 1:3.5) [armel, armhf]

dep:

libgcc1 (>= 1:4.2) [hurd-i386, i386, kfreebsd-i386, mips, mipsel]

dep:

liblua5.2-0

Shared library for the Lua interpreter version 5.2

dep:

libsdl2-2.0-0 (>= 2.0.4) [kfreebsd-i386]

Simple DirectMedia Layer

dep:

libsdl2-2.0-0 (>= 2.0.8) [ej kfreebsd-i386]

dep:

libsdl2-mixer-2.0-0 (>= 2.0.1) [kfreebsd-i386]

Mixer library for Simple DirectMedia Layer 2, libraries

dep:

libsdl2-mixer-2.0-0 (>= 2.0.2) [ej kfreebsd-i386]

dep:

libstdc++6 (>= 5.2) [kfreebsd-i386]

GNU standardbibliotek v3 för C++

dep:

libstdc++6 (>= 6) [ej hurd-i386, kfreebsd-i386]

dep:

libstdc++6 (>= 8.2.0-16) [hurd-i386]

dep:

libswresample2 (>= 7:3.2) [kfreebsd-i386]

Paketet inte tillgängligt

dep:

libswresample3 (>= 7:4.0) [ej kfreebsd-i386]

FFmpeg library for audio resampling, rematrixing etc. - runtime files

dep:

libswscale4 (>= 7:3.2) [kfreebsd-i386]

Paketet inte tillgängligt

dep:

libswscale5 (>= 7:4.0) [ej kfreebsd-i386]

FFmpeg library for image scaling and various conversions - runtime files

dep:

lua-filesystem

luafilesystem library for the Lua language

dep:

lua-lpeg

LPeg library for the Lua language
rec:

theme-hospital-data

Paketet inte tillgängligt

eller theme-hospital-demo-data

Paketet inte tillgängligt

eller game-data-packager

Installer for game data files

rec:

timidity [ej kfreebsd-i386]

Software sound renderer (MIDI sequencer, MOD player)
Hämta corsix-th
Hämtningar för alla tillgängliga arkitekturer

| Arkitektur | Version | Paketstorlek | Installerad storlek | Filer |
| --- | --- | --- | --- | --- |
| amd64 | 0.62-2 | 259,1 kbyte | 631,0 kbyte | [filförteckning] |
| arm64 | 0.62-2 | 247,1 kbyte | 619,0 kbyte | [filförteckning] |
| armel | 0.62-2 | 232,4 kbyte | 554,0 kbyte | [filförteckning] |
| armhf | 0.62-2 | 234,3 kbyte | 478,0 kbyte | [filförteckning] |
| hurd-i386 | 0.62-2 | 259,6 kbyte | 626,0 kbyte | [filförteckning] |
| i386 | 0.62-2 | 272,5 kbyte | 670,0 kbyte | [filförteckning] |
| kfreebsd-amd64 | 0.62-2 | 244,7 kbyte | 575,0 kbyte | [filförteckning] |
| kfreebsd-i386 | 0.60-2 | 257,0 kbyte | 623,0 kbyte | [filförteckning] |
| mips | 0.62-2 | 248,0 kbyte | 705,0 kbyte | [filförteckning] |
| mips64el | 0.62-2 | 252,1 kbyte | 741,0 kbyte | [filförteckning] |
| mipsel | 0.62-2 | 250,9 kbyte | 705,0 kbyte | [filförteckning] |
| ppc64el | 0.62-2 | 268,3 kbyte | 759,0 kbyte | [filförteckning] |
| s390x | 0.62-2 | 246,9 kbyte | 655,0 kbyte | [filförteckning] |