Paket: razorqt-lightdm-greeter (0.5.2-4)
Länkar för razorqt-lightdm-greeter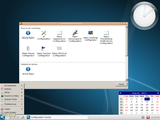 Debianresurser:
Hämta källkodspaketet razorqt:
Ansvarig:
Externa resurser:
Liknande paket:
LightDM greeter for Razor-qt desktop environment
Razor-qt is an advanced, easy-to-use, and fast desktop environment based on Qt technologies. It has been tailored for users who value simplicity, speed, and an intuitive interface. Unlike most desktop environments, Razor-qt also works fine with less powerful machines.
This package provides a greeter for LightDM.
Andra paket besläktade med razorqt-lightdm-greeter
rec:

razorqt-config

Configuration component for Razor-qt desktop environment

rec:

razorqt-desktop

Desktop component for Razor-qt desktop environment
sug:

razorqt

Lightweight desktop environment, all components
Hämta razorqt-lightdm-greeter