Paket: kvpm (0.9.9-1)
Länkar för kvpm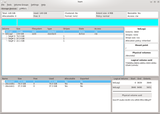 Debianresurser:
Hämta källkodspaketet kvpm:
Ansvariga:
Externa resurser:
Liknande paket:
Logical volume manager and disk partitioner GUI based on KDE
KVPM is a graphical user interface for the Linux Volume Manager (LVM) and libparted. It uses the standard LVM tools and programs to manipulate logical volumes, such as resizing, deleting or creating them. It can also format volumes and mount or unmount them. Creating, deleting and resizing partitions is also supported.
Andra paket besläktade med kvpm
sug:

btrfs-tools

Checksumming Copy on Write Filesystem utilities

sug:

reiser4progs

administration utilities for the Reiser4 filesystem