Paket: gvfs-backends (1.22.2-1)
Länkar för gvfs-backends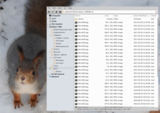 Debianresurser:
Hämta källkodspaketet gvfs:
Ansvariga:
Externa resurser:
Liknande paket:
userspace virtual filesystem - backends
gvfs is a userspace virtual filesystem where mounts run as separate processes which you talk to via D-Bus. It also contains a gio module that seamlessly adds gvfs support to all applications using the gio API. It also supports exposing the gvfs mounts to non-gio applications using fuse.
This package contains the afc, afp, archive, cdda, dav, dnssd, ftp, gphoto2, http, mtp, network, obexftp, sftp, smb and smb-browse backends.
Andra paket besläktade med gvfs-backends
sug:

obex-data-server

D-Bus service for OBEX client and server side functionality

sug:

samba-common

common files used by both the Samba server and client