Paket: colordiff (1.0.13-1)
Länkar för colordiff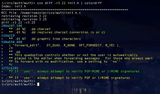 Debianresurser:
Hämta källkodspaketet colordiff:
Ansvarig:
Externa resurser:
Liknande paket:
tool to colorize 'diff' output
ColorDiff is a wrapper for the 'diff' command. It produces the same output as diff, but with colored highlighting to improve readability. The color schemes can be customized.
The output is similar to the syntax-highlighting mode of Vim or Emacs when editing a patch created by diff.
Andra paket besläktade med colordiff
dep:

perl

Larry Wall's Practical Extraction and Report Language
Hämta colordiff
Hämtningar för alla tillgängliga arkitekturer

| Arkitektur | Paketstorlek | Installerad storlek | Filer |
| --- | --- | --- | --- |
| all | 15,6 kbyte | 75,0 kbyte | [filförteckning] |