Paket: lava-server (2014.09.1-1+deb8u1) [security]
Länkar för lava-server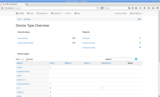 Debianresurser:
Hämta källkodspaketet lava-server:
Ansvariga:
Externa resurser:
Liknande paket:
Linaro Automated Validation Architecture server
LAVA is a continuous integration system for deploying operating systems onto physical and virtual hardware for running tests. Tests can be simple boot testing, bootloader testing and system level testing. Extra hardware may be required for some system tests. Results are tracked over time and data can be exported for further analysis.
This package provides the Apache and WSGI configuration and LAVA support files to run the validation server on the local Apache instance as a lava-server virtual host as well as the scheduler and dispatcher.
This package can be configured as the master scheduler or as a remote worker, although design limitations mean that it always installs a database (unused on a remote worker).
Andra paket besläktade med lava-server
rec:

lava-coordinator

LAVA Coordinator daemon

rec:

lava-server-doc

Linaro Automated Validation Architecture documentation

rec:

ntp

Network Time Protocol daemon and utility programs
Hämta lava-server
Hämtningar för alla tillgängliga arkitekturer

| Arkitektur | Paketstorlek | Installerad storlek | Filer |
| --- | --- | --- | --- |
| all | 807,3 kbyte | 5.902,0 kbyte | [filförteckning] |