Paket: extremetuxracer (0.7.0-1)
Länkar för extremetuxracer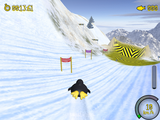 Debianresurser:
Ansvariga:
Externa resurser:
Liknande paket:
Experimentellt paket
Varning: Paketet är från den experimentella utgåvan. Det innebär att det med stor sannolikhet är instabilt eller innehåller fel, och kanske till och med kan orsaka dataförluster. Se till att läsa ändringsloggen och annan dokumentation innan du använder det.
3D racing game featuring Tux, the Linux penguin
Extreme Tux Racer, or etracer as it is called for short, is a simple OpenGL racing game featuring Tux, the Linux mascot. The goal of the game is to slide down a snow- and ice-covered mountain as quickly as possible, avoiding the trees and rocks that will slow you down.
Collect herrings and other goodies while sliding down the hill, but avoid fish bones.
This game is based on the GPL version of the famous game TuxRacer.
You must have working 3D acceleration or this game will run quite slowly.
Andra paket besläktade med extremetuxracer
Hämta extremetuxracer
Hämtningar för alla tillgängliga arkitekturer

| Arkitektur | Paketstorlek | Installerad storlek | Filer |
| --- | --- | --- | --- |
| kfreebsd-amd64 | 201,6 kbyte | 566,0 kbyte | [filförteckning] |