Paket: supertux (0.3.4-1) [debports]
Länkar för supertux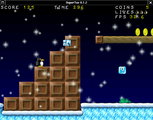 Debianresurser:
Hämta källkodspaketet supertux:
Ansvariga:
Externa resurser:
Liknande paket:
Experimentellt paket
Varning: Paketet är från den experimentella utgåvan. Det innebär att det med stor sannolikhet är instabilt eller innehåller fel, och kanske till och med kan orsaka dataförluster. Se till att läsa ändringsloggen och annan dokumentation innan du använder det.
Classic 2D jump 'n run sidescroller with Tux
SuperTux is a classic 2D jump 'n run sidescroller game in a similar style like the original SuperMario games. You play the role of Tux the Penguin, who must rescue Penny from the hands of the evil Nolok.
Andra paket besläktade med supertux
Hämta supertux
Hämtningar för alla tillgängliga arkitekturer

| Arkitektur | Paketstorlek | Installerad storlek | Filer |
| --- | --- | --- | --- |
| hppa (inofficiell anpassning) | 687,0 kbyte | 2.741,0 kbyte | [filförteckning] |