Paket: xonsh (0.8.10+dfsg-1)
Länkar för xonsh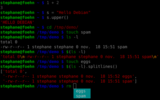 Debianresurser:
Hämta källkodspaketet xonsh:
Ansvariga:
Externa resurser:
Liknande paket:
Python-powered, cross-platform, Unix-gazing shell
Xonsh is a Python-ish shell language and command prompt. Unlike other shells, xonsh is based on Python, with additional syntax added that makes calling subprocess commands, manipulating the environment, and dealing with the file system easy. Xonsh supports all normal Python constructs and a subset of those available in bash.
Andra paket besläktade med xonsh
dep:

python3

interactive high-level object-oriented language (default python3 version)

dep:

python3-ply

Lex and Yacc implementation for Python3

dep:

python3-venv

pyvenv-3 binary for python3 (default python3 version)
sug:

xonsh-doc

Python-powered, cross-platform, Unix-gazing shell (documentation)
Hämta xonsh
Hämtningar för alla tillgängliga arkitekturer

| Arkitektur | Paketstorlek | Installerad storlek | Filer |
| --- | --- | --- | --- |
| all | 336,7 kbyte | 3.166,0 kbyte | [filförteckning] |