Paket: teeworlds (0.7.2-5)
Länkar för teeworlds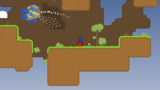 Debianresurser:
Hämta källkodspaketet teeworlds:
Ansvariga:
Externa resurser:
Liknande paket:
online multi-player platform 2D shooter
This package contains the client binary for Teeworlds.
The game features cartoon-themed graphics and physics, and relies heavily on classic shooter weaponry and gameplay. The controls are heavily inspired by the FPS genre of computer games.
Andra paket besläktade med teeworlds
Hämta teeworlds
Hämtningar för alla tillgängliga arkitekturer

| Arkitektur | Paketstorlek | Installerad storlek | Filer |
| --- | --- | --- | --- |
| amd64 | 448,3 kbyte | 1.153,0 kbyte | [filförteckning] |
| arm64 | 416,3 kbyte | 1.103,0 kbyte | [filförteckning] |
| armel | 396,6 kbyte | 1.042,0 kbyte | [filförteckning] |
| armhf | 396,9 kbyte | 778,0 kbyte | [filförteckning] |
| i386 | 469,4 kbyte | 1.306,0 kbyte | [filförteckning] |
| mips | 439,0 kbyte | 1.291,0 kbyte | [filförteckning] |
| mips64el | 437,5 kbyte | 1.327,0 kbyte | [filförteckning] |
| mipsel | 445,0 kbyte | 1.295,0 kbyte | [filförteckning] |
| ppc64el | 474,6 kbyte | 1.464,0 kbyte | [filförteckning] |
| s390x | 400,4 kbyte | 1.187,0 kbyte | [filförteckning] |