Paket: remmina (1.2.0-rcgit.20-4)
Länkar för remmina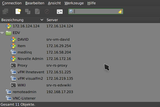 Debianresurser:
Hämta källkodspaketet remmina:
Ansvariga:
Externa resurser:
Liknande paket:
remote desktop client for GNOME desktop environment
Remmina is a remote desktop connection client able to display and control a remote desktop session.
It supports multiple network protocols in an integrated and consistent user interface. Currently RDP, VNC, NX, XDMCP and SSH protocols are supported.
Andra paket besläktade med remmina
Hämta remmina
Hämtningar för alla tillgängliga arkitekturer

| Arkitektur | Paketstorlek | Installerad storlek | Filer |
| --- | --- | --- | --- |
| amd64 | 133,6 kbyte | 393,0 kbyte | [filförteckning] |
| arm64 | 111,9 kbyte | 357,0 kbyte | [filförteckning] |
| armel | 112,3 kbyte | 327,0 kbyte | [filförteckning] |
| armhf | 113,7 kbyte | 259,0 kbyte | [filförteckning] |
| i386 | 147,5 kbyte | 436,0 kbyte | [filförteckning] |
| mips | 113,6 kbyte | 432,0 kbyte | [filförteckning] |
| mips64el | 112,5 kbyte | 434,0 kbyte | [filförteckning] |
| mipsel | 115,5 kbyte | 432,0 kbyte | [filförteckning] |
| ppc64el | 123,2 kbyte | 489,0 kbyte | [filförteckning] |
| s390x | 123,6 kbyte | 433,0 kbyte | [filförteckning] |