Paket: scalpel (1.60-6)
Länkar för scalpel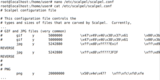 Debianresurser:
Hämta källkodspaketet scalpel:
Ansvariga:
Externa resurser:
Liknande paket:
fast filesystem-independent file recovery
scalpel is a fast file carver that reads a database of header and footer definitions and extracts matching files from a set of image files or raw device files.
scalpel is filesystem-independent and will carve files from FAT16, FAT32, exFAT, NTFS, Ext2, Ext3, Ext4, JFS, XFS, ReiserFS, raw partitions, etc.
scalpel is a complete rewrite of the Foremost 0.69 file carver and is useful for both digital forensics investigations and file recovery.
Andra paket besläktade med scalpel
dep:

libc6 (>= 2.28)

GNU C-bibliotek: Delade bibliotek
också ett virtuellt paket som tillhandahålls av libc6-udeb
Hämta scalpel
Hämtningar för alla tillgängliga arkitekturer

| Arkitektur | Paketstorlek | Installerad storlek | Filer |
| --- | --- | --- | --- |
| i386 | 36,8 kbyte | 95,0 kbyte | [filförteckning] |