Paket: gt5 (1.5.0~20111220+bzr29-2)
Länkar för gt5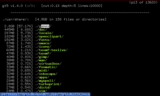 Debianresurser:
Hämta källkodspaketet gt5:
Ansvarig:
Externa resurser:
Liknande paket:
shell program to display visual disk usage with navigation
Years have passed and disks have become larger and larger, but even on this incredibly huge harddisk era, the space seems to disappear over time. This small shell program provides more convenient listing than the default disk usage du(1). The program displays what has happened since last run and displays dir size and the total percentage. It is possible to navigate and descend to directories by using cursor keys with text based browsers like links, elinks, lynx etc.
Andra paket besläktade med gt5
dep:

bash (>= 2.5)

GNU Bourne Again SHell
Hämta gt5
Hämtningar för alla tillgängliga arkitekturer

| Arkitektur | Paketstorlek | Installerad storlek | Filer |
| --- | --- | --- | --- |
| all | 16,5 kbyte | 38,0 kbyte | [filförteckning] |