Paket: cbm (0.2-1)
Länkar för cbm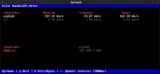 Debianresurser:
Hämta källkodspaketet cbm:
Ansvarig:
Externa resurser:
Liknande paket:
display in real time the network traffic speed
The Color Bandwidth Meter (CBM) is a small program to display the traffic currently flowing through the network devices in a simple curses-based GUI. The traffic for all interfaces include values as receive, transfer and total Bytes/s or bits/s (or its multiples as KB/s and Kb/s).
It is useful for Internet or LAN speed tests, measuring the velocity of a link, to establish a benchmark or to monitor your connections. CBM can be used with virtual, wired or wireless networks.
Andra paket besläktade med cbm
Hämta cbm
Hämtningar för alla tillgängliga arkitekturer

| Arkitektur | Paketstorlek | Installerad storlek | Filer |
| --- | --- | --- | --- |
| i386 | 20,6 kbyte | 56,0 kbyte | [filförteckning] |