Paket: gtk2-engines-nodoka (0.7.0-1.2 och andra)
Länkar för gtk2-engines-nodoka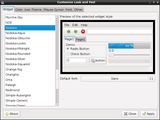 Debianresurser:
Ansvarig:
Externa resurser:
Liknande paket:
Nodoka theme engine for GTK+ 2.x
The engine behind the new default theme for Fedora, Nodoka is inspired by such themes engines as Clearlooks and Murrine. It features smooth, subtle gradients and rounded widgets.
Also included are a variety of GTK+ themes using the Nodoka engine.
Andra paket besläktade med gtk2-engines-nodoka
Hämta gtk2-engines-nodoka
Hämtningar för alla tillgängliga arkitekturer

| Arkitektur | Version | Paketstorlek | Installerad storlek | Filer |
| --- | --- | --- | --- | --- |
| amd64 | 0.7.0-1.2 | 46,9 kbyte | 286,0 kbyte | [filförteckning] |
| arm64 | 0.7.0-1.2 | 32,4 kbyte | 282,0 kbyte | [filförteckning] |
| armel | 0.7.0-1.2 | 49,3 kbyte | 298,0 kbyte | [filförteckning] |
| armhf | 0.7.0-1.2 | 41,1 kbyte | 252,0 kbyte | [filförteckning] |
| i386 | 0.7.0-1.2 | 42,6 kbyte | 162,0 kbyte | [filförteckning] |
| mips | 0.7.0-1.2+b1 | 32,0 kbyte | 231,0 kbyte | [filförteckning] |
| mips64el | 0.7.0-1.2 | 32,5 kbyte | 231,0 kbyte | [filförteckning] |
| mipsel | 0.7.0-1.2+b1 | 32,8 kbyte | 231,0 kbyte | [filförteckning] |
| ppc64el | 0.7.0-1.2 | 40,3 kbyte | 289,0 kbyte | [filförteckning] |
| s390x | 0.7.0-1.2 | 47,6 kbyte | 298,0 kbyte | [filförteckning] |