Paket: gtk-3-examples (3.24.5-1)
Länkar för gtk-3-examples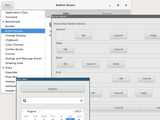 Debianresurser:
Hämta källkodspaketet gtk+3.0:
Ansvariga:
Externa resurser:
Liknande paket:
example files for GTK+ 3
GTK+ is a multi-platform toolkit for creating graphical user interfaces. Offering a complete set of widgets, GTK+ is suitable for projects ranging from small one-off tools to complete application suites.
This package contains the example files and a demonstration program for GTK+3. It also contains the installed tests.
Andra paket besläktade med gtk-3-examples
Hämta gtk-3-examples
Hämtningar för alla tillgängliga arkitekturer

| Arkitektur | Paketstorlek | Installerad storlek | Filer |
| --- | --- | --- | --- |
| amd64 | 1.749,7 kbyte | 13.899,0 kbyte | [filförteckning] |
| arm64 | 1.715,0 kbyte | 13.653,0 kbyte | [filförteckning] |
| armel | 1.704,4 kbyte | 13.359,0 kbyte | [filförteckning] |
| armhf | 1.713,2 kbyte | 13.103,0 kbyte | [filförteckning] |
| i386 | 1.763,6 kbyte | 13.931,0 kbyte | [filförteckning] |
| mips | 1.692,0 kbyte | 13.611,0 kbyte | [filförteckning] |
| mips64el | 1.698,1 kbyte | 13.824,0 kbyte | [filförteckning] |
| mipsel | 1.698,4 kbyte | 13.611,0 kbyte | [filförteckning] |
| ppc64el | 1.757,2 kbyte | 17.363,0 kbyte | [filförteckning] |
| s390x | 1.711,1 kbyte | 13.689,0 kbyte | [filförteckning] |