Paket: scratch (1.4.0.6~dfsg1-6)
Länkar för scratch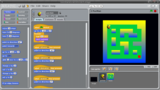 Debianresurser:
Hämta källkodspaketet scratch:
Ansvarig:
Externa resurser:
Liknande paket:
easy to use programming environment for ages 8 and up
Scratch is an easy, interactive, collaborative programming environment designed for creation of interactive stories, animations, games, music, and art -- and sharing these on the web. Scratch is designed to help young people (ages 8 and up) develop 21st century learning skills. As they create Scratch projects, young people learn important mathematical and computational ideas, while also gaining a deeper understanding of the process of design.
Andra paket besläktade med scratch
icon theme caching utility

dep:

shared-mime-info

FreeDesktop.org shared MIME database and spec

dep:

squeak-vm

virtual machine for Smalltalk
sug:

pulseaudio (>= 1.0.9)

PulseAudio sound server
Hämta scratch
Hämtningar för alla tillgängliga arkitekturer

| Arkitektur | Paketstorlek | Installerad storlek | Filer |
| --- | --- | --- | --- |
| all | 25.052,1 kbyte | 46.028,0 kbyte | [filförteckning] |