Paket: aseba (1.6.0-5)
Länkar för aseba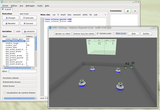 Debianresurser:
Hämta källkodspaketet aseba:
Ansvarig:
Externa resurser:
Liknande paket:
Event-based framework for distributed mobile robots control
Aseba's core is a lightweight virtual machine, small enough to run on any 16 bits microcontroller. In Aseba, all virtual machines are linked in a network and all their programs are developed and debugged from a single application, Aseba Studio.
Aseba allows one to program Thymio, a small robot to discover the universe of robotics and learn a robot's language.
Andra paket besläktade med aseba
Hämta aseba
Hämtningar för alla tillgängliga arkitekturer

| Arkitektur | Paketstorlek | Installerad storlek | Filer |
| --- | --- | --- | --- |
| amd64 | 8.363,3 kbyte | 24.873,0 kbyte | [filförteckning] |
| arm64 | 8.224,7 kbyte | 24.618,0 kbyte | [filförteckning] |
| i386 | 8.466,7 kbyte | 24.313,0 kbyte | [filförteckning] |
| mips | 8.176,7 kbyte | 25.186,0 kbyte | [filförteckning] |
| mips64el | 8.298,2 kbyte | 27.188,0 kbyte | [filförteckning] |
| mipsel | 8.228,8 kbyte | 25.179,0 kbyte | [filförteckning] |
| ppc64el | 8.455,1 kbyte | 27.137,0 kbyte | [filförteckning] |
| s390x | 8.170,1 kbyte | 25.084,0 kbyte | [filförteckning] |