Paket: arctica-greeter (0.99.1.3-1)
Länkar för arctica-greeter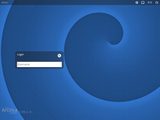 Debianresurser:
Ansvariga:
Externa resurser:
Liknande paket:
LightDM Arctica Greeter
A greeter shell for the LightDM login manager. Arctica Greeter can be used as local display manager as well as thin client login manager.
Arctica Greeter has been forked from Ubuntu's Unity Greeter with focus on keeping remote logon support a maintained feature and provide a user interface based on Ayatana Indicators.
Arctica Greeter can be extended with various features:

  - remote logon support against RDP, Arctica and X2Go Servers
  - guest session support
  - various themes available / providable

Andra paket besläktade med arctica-greeter
Ayatana Application Indicators

rec:

ayatana-indicator-datetime

Paketet inte tillgängligt

rec:

ayatana-indicator-keyboard

Paketet inte tillgängligt

Ayatana Indicator showing power state

Ayatana Indicator showing session management, status and user switching

rec:

ayatana-indicator-sound

Paketet inte tillgängligt

network management framework (GNOME frontend)

rec:

numlockx

enable NumLock in X11 sessions

rec:

xinput

Runtime configuration and test of XInput devices
Hämta arctica-greeter
Hämtningar för alla tillgängliga arkitekturer

| Arkitektur | Paketstorlek | Installerad storlek | Filer |
| --- | --- | --- | --- |
| amd64 | 578,8 kbyte | 1.537,0 kbyte | [filförteckning] |
| arm64 | 567,2 kbyte | 1.525,0 kbyte | [filförteckning] |
| armel | 555,6 kbyte | 1.448,0 kbyte | [filförteckning] |
| armhf | 558,1 kbyte | 1.364,0 kbyte | [filförteckning] |
| i386 | 592,9 kbyte | 1.604,0 kbyte | [filförteckning] |
| mips | 556,3 kbyte | 1.585,0 kbyte | [filförteckning] |
| mips64el | 555,7 kbyte | 1.598,0 kbyte | [filförteckning] |
| mipsel | 559,2 kbyte | 1.585,0 kbyte | [filförteckning] |
| ppc64el | 588,2 kbyte | 1.685,0 kbyte | [filförteckning] |
| s390x | 564,0 kbyte | 1.553,0 kbyte | [filförteckning] |