Paket: pixfrogger (1.0+dfsg-0.1)
Länkar för pixfrogger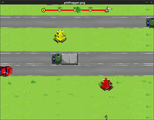 Debianresurser:
Hämta källkodspaketet pixfrogger:
Ansvariga:
Externa resurser:
Liknande paket:
help the frog cross the street
PiX Frogger is a clone of the classic game Frogger, in which you must help a frog cross the street to avoid becoming roadkill by cars and trucks. The frog starts at the bottom of the screen and the only control the player has is navigating the direction for the frog to hop. The game allows 4 players playing simultaneously with the keyboard.
Andra paket besläktade med pixfrogger
dep:

fenix

development environment for making 2D games

dep:

fenix-plugins-system

system plugins for the Fenix Game Development System