Paket: gpxviewer (1.0.1-1)
Länkar för gpxviewer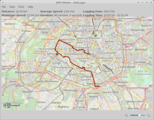 Debianresurser:
Hämta källkodspaketet gpxviewer:
Ansvariga:
Externa resurser:
Liknande paket:
views GPS traces collected in the GPX format
This application allows the user to load a GPS trace, in the GPX file format, and read it in a presentable way. You are shown a few statistics, such as the duration or maximum speed. You are also shown the trace on an OpenStreetMap map, where you can scroll around and zoom.
Andra paket besläktade med gpxviewer
Hämta gpxviewer
Hämtningar för alla tillgängliga arkitekturer

| Arkitektur | Paketstorlek | Installerad storlek | Filer |
| --- | --- | --- | --- |
| all | 43,6 kbyte | 260,0 kbyte | [filförteckning] |