Paket: fldigi (4.1.06-2)
Länkar för fldigi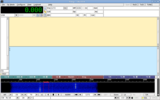 Debianresurser:
Hämta källkodspaketet fldigi:
Ansvariga:
Externa resurser:
Liknande paket:
digital modem program for hamradio operators
Fldigi is a modem program which supports most of the digital modes used by hamradio operators today. You can also use the program for calibrating your sound card to WWV or doing a frequency measurement test. The program also comes with a CW decoder. Fldigi is written with the help of the Fast Light Toolkit X GUI.
Andra paket besläktade med fldigi
rec:

extra-xdg-menus

Extra menu categories for applications under GNOME and KDE
Hämta fldigi
Hämtningar för alla tillgängliga arkitekturer

| Arkitektur | Paketstorlek | Installerad storlek | Filer |
| --- | --- | --- | --- |
| mipsel | 2.464,9 kbyte | 10.310,0 kbyte | [filförteckning] |