Paket: foxtrotgps (1.2.2-2)
Länkar för foxtrotgps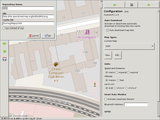 Debianresurser:
Hämta källkodspaketet foxtrotgps:
Ansvarig:
Externa resurser:
Liknande paket:
GTK+ mapping and GPS application
foxtrotGPS is a map and GPS application. By default, it uses maps from OpenStreetMap. The available features include downloading and displaying tiled maps, recording GPS tracks, automatic map centering, storing points of interest, geocoding photos, setting waypoints, monitoring heartrate via Bluetooth, planning travel routes and finding travel routes using external services on the Internet based on OpenStreetMap.
Andra paket besläktade med foxtrotgps
rec:

gpsd

Global Positioning System - daemon
Hämta foxtrotgps
Hämtningar för alla tillgängliga arkitekturer

| Arkitektur | Paketstorlek | Installerad storlek | Filer |
| --- | --- | --- | --- |
| mipsel | 935,7 kbyte | 1.704,0 kbyte | [filförteckning] |