Paket: frogatto (1.3.1+dfsg-5 och andra) [contrib]
Länkar för frogatto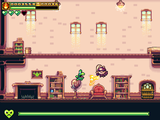 Debianresurser:
Hämta källkodspaketet frogatto:
Ansvariga:
Externa resurser:
Liknande paket:
2D platformer game starring a quixotic frog
Frogatto is a platformer in the style of old arcade, Sega and Nintendo games. The world is viewed as a cross-section seen from the side, and your character walks and jumps between solid platforms whilst fighting monsters.
This package contains game engine.
Andra paket besläktade med frogatto
Hämta frogatto
Hämtningar för alla tillgängliga arkitekturer

| Arkitektur | Version | Paketstorlek | Installerad storlek | Filer |
| --- | --- | --- | --- | --- |
| amd64 | 1.3.1+dfsg-5+b1 | 1.868,8 kbyte | 6.344,0 kbyte | [filförteckning] |
| arm64 | 1.3.1+dfsg-5+b1 | 1.636,6 kbyte | 5.921,0 kbyte | [filförteckning] |
| armel | 1.3.1+dfsg-5+b1 | 1.543,0 kbyte | 5.278,0 kbyte | [filförteckning] |
| armhf | 1.3.1+dfsg-5+b1 | 1.607,5 kbyte | 3.826,0 kbyte | [filförteckning] |
| i386 | 1.3.1+dfsg-5+b1 | 2.040,5 kbyte | 6.686,0 kbyte | [filförteckning] |
| mips64el | 1.3.1+dfsg-5+b1 | 1.648,9 kbyte | 8.526,0 kbyte | [filförteckning] |
| mipsel | 1.3.1+dfsg-5+b1 | 1.670,1 kbyte | 7.990,0 kbyte | [filförteckning] |
| ppc64el | 1.3.1+dfsg-5+b1 | 1.858,4 kbyte | 7.728,0 kbyte | [filförteckning] |
| s390x | 1.3.1+dfsg-5+b1 | 1.641,1 kbyte | 6.504,0 kbyte | [filförteckning] |