Package: wireshark-gtk (2.6.20-0+deb9u3 and others) [security]
Links for wireshark-gtk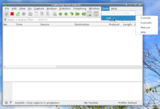 Debian Resources:
Download Source Package wireshark:
Maintainer:
External Resources:
Similar packages:
network traffic analyzer - GTK+ version
Wireshark is a network "sniffer" - a tool that captures and analyzes packets off the wire. Wireshark can decode too many protocols to list here.
This package provides the GTK+ version of Wireshark.
Other Packages Related to wireshark-gtk
rec:

xdg-utils

desktop integration utilities from freedesktop.org
Download wireshark-gtk
Download for all available architectures

| Architecture | Version | Package Size | Installed Size | Files |
| --- | --- | --- | --- | --- |
| amd64 | 2.6.20-0+deb9u3 | 707.4 kB | 2,050.0 kB | [list of files] |
| arm64 | 2.6.20-0+deb9u3 | 601.0 kB | 1,869.0 kB | [list of files] |
| armel | 2.6.20-0+deb9u3 | 617.0 kB | 1,743.0 kB | [list of files] |
| armhf | 2.6.20-0+deb9u3 | 628.2 kB | 1,367.0 kB | [list of files] |
| i386 | 2.6.20-0+deb9u3 | 765.0 kB | 2,276.0 kB | [list of files] |
| mips | 2.6.7-1~deb9u1 | 610.7 kB | 2,241.0 kB | [list of files] |
| mips64el | 2.6.7-1~deb9u1 | 602.0 kB | 2,290.0 kB | [list of files] |
| mipsel | 2.6.7-1~deb9u1 | 616.7 kB | 2,241.0 kB | [list of files] |
| ppc64el | 2.6.7-1~deb9u1 | 647.1 kB | 2,294.0 kB | [list of files] |
| s390x | 2.6.7-1~deb9u1 | 666.9 kB | 2,222.0 kB | [list of files] |