Package: spamc (3.4.2-1~deb9u1)
Links for spamc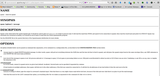 Debian Resources:
Download Source Package spamassassin:
Maintainer:
External Resources:
Similar packages:
Client for SpamAssassin spam filtering daemon
spamc is the client to communicate with spamd, the daemonized form of SpamAssassin (see the spamassassin package). It is written in C for maximum speed and minimum loading overhead.
spamc is quite useful for integrating spamassassin into an MTA or into a .procmailrc file because of its speed.
This package is useless unless you have spamassassin installed, either on this machine or another local machine (i.e. a mail server).
Other Packages Related to spamc
dep:

libc6 (>= 2.14) [amd64]

GNU C Library: Shared libraries
also a virtual package provided by libc6-udeb

dep:

libc6 (>= 2.17) [arm64, ppc64el]

dep:

libc6 (>= 2.7) [not amd64, arm64, ppc64el]

dep:

libssl1.1 (>= 1.1.0)

Secure Sockets Layer toolkit - shared libraries
sug:

spamassassin

Perl-based spam filter using text analysis