Package: slang-wildcard (0.5.0-3)
Links for slang-wildcard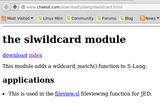 Debian Resources:
Download Source Package slwildcard:
Maintainer:
External Resources:
Similar packages:
adds a wildcard match function to S-Lang
The S-Lang module contained in this package provides a wildcard_match() function to S-Lang. It's vectorized, so it should be faster than an array_map(&string_match, ... ). This module can be used in slsh (the S-Lang shell), in the JED editor, and in the news reader slrn.
Other Packages Related to slang-wildcard
dep:

libc6 (>= 2.17) [arm64, ppc64el]

GNU C Library: Shared libraries
also a virtual package provided by libc6-udeb

dep:

libc6 (>= 2.4) [not arm64, ppc64el]

dep:

libslang2 (>= 2.2.4)

S-Lang programming library - runtime version