[ stretch ]
Package: qlandkartegt (1.8.1+ds-7 and others)
Links for qlandkartegt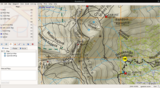 Debian Resources:
Download Source Package qlandkartegt:
Maintainers:
External Resources:
Similar packages:
GPS mapping (GeoTiff and vector) and GPSr management
This package provides a versatile tool for GPS maps in GeoTiff format as well as Garmin's img vector map format. QLandkarteGT is the successor of QLandkarte. Among various improvements (e.g. 2D/3D map rendering and reduced resource demands) the major difference is its device-independent architecture.
Additionally, QLandkarteGT serves as a frontend to the GDAL tools, to make georeferencing of scanned maps feasible for users. In contrast to similar tools (e.g. QGis) its straightforward interface is especially suited for non-scientific users.
Other Packages Related to qlandkartegt
rec:

gdal-bin

Geospatial Data Abstraction Library - Utility programs

rec:

gpsbabel

GPS file conversion plus transfer to/from GPS units
sug:

gpsd

Global Positioning System - daemon
Download qlandkartegt
Download for all available architectures

| Architecture | Version | Package Size | Installed Size | Files |
| --- | --- | --- | --- | --- |
| amd64 | 1.8.1+ds-7+b1 | 3,628.8 kB | 9,510.0 kB | [list of files] |
| arm64 | 1.8.1+ds-7+b1 | 3,469.7 kB | 9,406.0 kB | [list of files] |
| i386 | 1.8.1+ds-7+b1 | 3,769.0 kB | 9,677.0 kB | [list of files] |
| mips | 1.8.1+ds-7+b1 | 3,362.9 kB | 10,655.0 kB | [list of files] |
| mipsel | 1.8.1+ds-7+b1 | 3,389.1 kB | 10,655.0 kB | [list of files] |
| ppc64el | 1.8.1+ds-7+b1 | 3,550.6 kB | 10,766.0 kB | [list of files] |
| s390x | 1.8.1+ds-7+b1 | 3,494.9 kB | 10,126.0 kB | [list of files] |