Package: nmon (16f+debian-0.1)
Links for nmon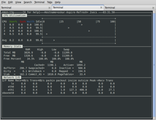 Debian Resources:
Download Source Package nmon:
Maintainer:
External Resources:
Similar packages:
performance monitoring tool for Linux
nmon is a systems administrator, tuner, benchmark tool. It can display the CPU, memory, network, disks (mini graphs or numbers), file systems, NFS, top processes, resources (Linux version & processors) and on Power micro-partition information.
Data is displayed on the screen and updated once every two seconds, using a dumb screen. However, you can easily change this interval to a longer or shorter time period.
The nmon tool can also capture the same data to a text file for later analysis and graphing for reports. The output is in a spreadsheet format (.csv).
Other Packages Related to nmon
dep:

libc6 (>= 2.14) [amd64]

GNU C Library: Shared libraries
also a virtual package provided by libc6-udeb

dep:

libc6 (>= 2.17) [arm64, ppc64el]

dep:

libc6 (>= 2.7) [not amd64, arm64, ppc64el]

dep:

libncurses5 (>= 6)

shared libraries for terminal handling

dep:

libtinfo5 (>= 6)

shared low-level terminfo library for terminal handling