Package: nickle (2.79-2)
Links for nickle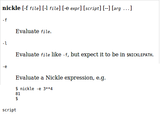 Debian Resources:
Download Source Package nickle:
Maintainer:
Similar packages:
desk calculator language
Nickle is a language with powerful programming and scripting capabilities. Nickle supports a variety of datatypes, especially arbitrary precision integers, rationals, and imprecise reals. The input language vaguely resembles C. Some things in C which do not translate easily are different, some design choices have been made differently, and a very few features are simply missing.
Other Packages Related to nickle
dep:

libc6 (>= 2.15) [not arm64, ppc64el]

GNU C Library: Shared libraries
also a virtual package provided by libc6-udeb

dep:

libc6 (>= 2.17) [arm64, ppc64el]

dep:

libreadline7 (>= 6.0)

GNU readline and history libraries, run-time libraries

dep:

libtinfo5 (>= 6)

shared low-level terminfo library for terminal handling