Package: lmarbles (1.0.7-1.1 and others)
Links for lmarbles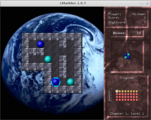 Debian Resources:
Download Source Package lmarbles:
Maintainer:
External Resources:
Similar packages:
A game where you build figures out of colored marbles
The goal of this game is to create a more or less complex figure out of single marbles within a time limit to reach the next level. Sounds easy? Well, there is a problem: If a marble starts to move, it will not stop until it hits a wall or another marble.
Other Packages Related to lmarbles
dep:

libc6 (>= 2.17) [arm64, ppc64el]

GNU C Library: Shared libraries
also a virtual package provided by libc6-udeb

dep:

libc6 (>= 2.7) [not arm64, ppc64el]

dep:

libsdl-mixer1.2

Mixer library for Simple DirectMedia Layer 1.2, libraries

dep:

libsdl1.2debian (>= 1.2.11)

Simple DirectMedia Layer
Download lmarbles
Download for all available architectures

| Architecture | Version | Package Size | Installed Size | Files |
| --- | --- | --- | --- | --- |
| amd64 | 1.0.7-1.1+b2 | 671.2 kB | 1,652.0 kB | [list of files] |
| arm64 | 1.0.7-1.1+b2 | 663.5 kB | 1,640.0 kB | [list of files] |
| armel | 1.0.7-1.1+b2 | 665.8 kB | 1,643.0 kB | [list of files] |
| armhf | 1.0.7-1.1+b2 | 664.4 kB | 1,619.0 kB | [list of files] |
| i386 | 1.0.7-1.1+b2 | 673.4 kB | 1,663.0 kB | [list of files] |
| mips | 1.0.7-1.1+b2 | 669.0 kB | 1,667.0 kB | [list of files] |
| mips64el | 1.0.7-1.1+b2 | 670.0 kB | 1,673.0 kB | [list of files] |
| mipsel | 1.0.7-1.1+b2 | 669.6 kB | 1,667.0 kB | [list of files] |
| ppc64el | 1.0.7-1.1+b2 | 666.8 kB | 1,692.0 kB | [list of files] |
| s390x | 1.0.7-1.1+b2 | 672.7 kB | 1,672.0 kB | [list of files] |