Package: gqrx-sdr (2.6-1 and others)
Links for gqrx-sdr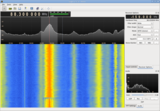 Debian Resources:
Download Source Package gqrx-sdr:
Maintainer:
External Resources:
Similar packages:
Software defined radio receiver
Gqrx supports many of the SDR hardware available, including Funcube Dongles, rtl-sdr, HackRF and USRP devices.
Includes AM, SSB, FM-N and FM-W (mono and stereo) demodulators, and Special FM mode for NOAA APT. Displays FFT plot and spectrum waterfall.
It is powered by GNU Radio and the Qt GUI toolkit.
Other Packages Related to gqrx-sdr
Download gqrx-sdr
Download for all available architectures

| Architecture | Version | Package Size | Installed Size | Files |
| --- | --- | --- | --- | --- |
| amd64 | 2.6-1+b1 | 578.0 kB | 2,145.0 kB | [list of files] |
| arm64 | 2.6-1+b1 | 532.9 kB | 2,255.0 kB | [list of files] |
| armel | 2.6-1+b1 | 560.6 kB | 2,204.0 kB | [list of files] |
| armhf | 2.6-1+b1 | 552.2 kB | 1,740.0 kB | [list of files] |
| i386 | 2.6-1+b1 | 604.2 kB | 2,117.0 kB | [list of files] |
| mips | 2.6-1+b1 | 517.4 kB | 2,653.0 kB | [list of files] |
| mips64el | 2.6-1+b1 | 519.0 kB | 2,860.0 kB | [list of files] |
| mipsel | 2.6-1+b1 | 520.0 kB | 2,653.0 kB | [list of files] |
| ppc64el | 2.6-1+b1 | 544.9 kB | 2,461.0 kB | [list of files] |
| s390x | 2.6-1+b1 | 541.4 kB | 2,355.0 kB | [list of files] |