Package: florence (0.6.3-1 and others)
Links for florence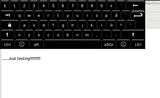 Debian Resources:
Download Source Package florence:
Maintainer:
External Resources:
Similar packages:
extensible and scalable virtual keyboard for X
Florence is an extensible scalable virtual keyboard for X.
It is useful when a real keyboard is unusable either because of a handicap, disease, broken keyboard or tablet PC; but when a pointing device is usable.
Florence stays out of your way: it appears on the screen only when needed. An auto-click functionality also help people having difficulties to click buttons.
Other Packages Related to florence
Download florence
Download for all available architectures

| Architecture | Version | Package Size | Installed Size | Files |
| --- | --- | --- | --- | --- |
| amd64 | 0.6.3-1+b2 | 525.2 kB | 1,489.0 kB | [list of files] |
| arm64 | 0.6.3-1+b2 | 514.5 kB | 1,473.0 kB | [list of files] |
| armel | 0.6.3-1+b2 | 518.1 kB | 1,462.0 kB | [list of files] |
| armhf | 0.6.3-1+b2 | 517.2 kB | 1,426.0 kB | [list of files] |
| i386 | 0.6.3-1+b2 | 531.9 kB | 1,506.0 kB | [list of files] |
| mips | 0.6.3-1+b2 | 519.0 kB | 1,498.0 kB | [list of files] |
| mips64el | 0.6.3-1+b2 | 518.5 kB | 1,511.0 kB | [list of files] |
| mipsel | 0.6.3-1+b2 | 520.0 kB | 1,498.0 kB | [list of files] |
| ppc64el | 0.6.3-1+b2 | 519.1 kB | 1,561.0 kB | [list of files] |
| s390x | 0.6.3-1+b2 | 520.5 kB | 1,505.0 kB | [list of files] |