Package: qbrew (0.4.1-8 and others)
Links for qbrew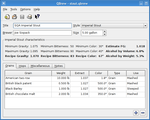 Debian Resources:
Download Source Package qbrew:
Maintainer:
External Resources:
Similar packages:
Homebrewer's recipe calculator
QBrew is a recipe calculator for homebrewed beers. It uses Qt for creating its graphical user interface and provides facilities for creating own beer recipes. It even has a manual describing how to brew your first beer yourself!
Other Packages Related to qbrew
dep:

libc6 (>= 2.29) [not armel, armhf]

GNU C Library: Shared libraries
also a virtual package provided by libc6-udeb

dep:

libc6 (>= 2.4) [armel, armhf]

dep:

libgcc1 (>= 1:3.0) [not armel, armhf]

Package not available

dep:

libgcc1 (>= 1:3.5) [armel, armhf]

dep:

libqt5core5a (>= 5.12.2) [amd64, i386]

Qt 5 core module

dep:

libqt5core5a (>= 5.5.0) [not amd64, i386]

dep:

libqt5gui5 (>= 5.2.0) [armel, armhf]

Qt 5 GUI module

dep:

libqt5gui5 (>= 5.2.0) [not armel, armhf]

Qt 5 GUI module

or libqt5gui5-gles (>= 5.2.0)

Qt 5 GUI module — OpenGL ES variant

dep:

libqt5printsupport5 (>= 5.0.2)

Qt 5 print support module

dep:

libqt5widgets5 (>= 5.11.0~rc1) [not armel, armhf]

Qt 5 widgets module

dep:

libqt5widgets5 (>= 5.2.0~alpha1) [armel, armhf]

dep:

libstdc++6 (>= 5)

GNU Standard C++ Library v3