Package: spatialite-gui (2.1.0~beta1-1 and others)
Links for spatialite-gui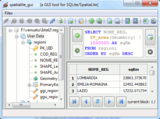 Debian Resources:
Maintainers:
External Resources:
Similar packages:
user-friendly graphical user interface for SpatiaLite
spatialite-gui is a Graphical User Interface (GUI) for SpatiaLite.
SpatiaLite is a SQLite extension that enables support of spatial (geometry) data in a way conformant to OpenGis specifications, with both WKT and WKB formats.
Spatialite also includes Virtualshape and Virtualtext to enable accessing shapefiles and csv/text files as virtual tables.
Other Packages Related to spatialite-gui
Download spatialite-gui
Download for all available architectures

| Architecture | Version | Package Size | Installed Size | Files |
| --- | --- | --- | --- | --- |
| amd64 | 2.1.0~beta1-1+b1 | 1,987.2 kB | 8,136.0 kB | [list of files] |
| arm64 | 2.1.0~beta1-1+b1 | 1,704.2 kB | 7,434.0 kB | [list of files] |
| armel | 2.1.0~beta1-1+b1 | 1,698.2 kB | 6,259.0 kB | [list of files] |
| armhf | 2.1.0~beta1-1+b1 | 1,736.5 kB | 5,007.0 kB | [list of files] |
| i386 | 2.1.0~beta1-1+b1 | 2,037.4 kB | 7,553.0 kB | [list of files] |
| mips64el | 2.1.0~beta1-1+b1 | 1,511.7 kB | 8,575.0 kB | [list of files] |
| mipsel | 2.1.0~beta1-1+b1 | 1,548.4 kB | 8,032.0 kB | [list of files] |
| ppc64el | 2.1.0~beta1-1+b1 | 1,820.6 kB | 8,582.0 kB | [list of files] |
| s390x | 2.1.0~beta1-1+b1 | 1,746.0 kB | 7,982.0 kB | [list of files] |