Package: poedit (3.2.2-1 and others)
Links for poedit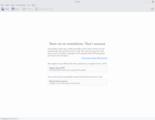 Debian Resources:
Download Source Package poedit:
Maintainers:
External Resources:
Similar packages:
gettext catalog editor
Poedit is an editor for gettext catalogs (.po files). It aims to provide a convenient approach to editing catalogs. It features UTF-8 support, fuzzy and untranslated records highlighting, whitespace highlighting, references browser, header editing and can be used to create new catalogs or update existing catalogs from source code with a single click. It is built with wxWidgets toolkit.
Other Packages Related to poedit
Download poedit
Download for all available architectures

| Architecture | Version | Package Size | Installed Size | Files |
| --- | --- | --- | --- | --- |
| amd64 | 3.2.2-1+b2 | 1,300.3 kB | 7,954.0 kB | [list of files] |
| arm64 | 3.2.2-1+b2 | 1,193.9 kB | 7,974.0 kB | [list of files] |
| armel | 3.2.2-1+b2 | 1,022.9 kB | 6,755.0 kB | [list of files] |
| armhf | 3.2.2-1+b2 | 1,040.1 kB | 5,091.0 kB | [list of files] |
| i386 | 3.2.2-1+b2 | 1,483.8 kB | 7,400.0 kB | [list of files] |
| mips64el | 3.2.2-1+b2 | 1,886.2 kB | 22,227.0 kB | [list of files] |
| mipsel | 3.2.2-1+b2 | 1,784.5 kB | 17,330.0 kB | [list of files] |
| ppc64el | 3.2.2-1+b2 | 1,339.7 kB | 10,470.0 kB | [list of files] |
| s390x | 3.2.2-1+b2 | 1,239.0 kB | 10,110.0 kB | [list of files] |