Package: vpcs (0.5b2-2.2)
Links for vpcs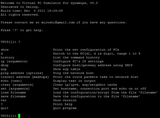 Debian Resources:
Download Source Package vpcs:
Maintainer:
External Resources:
Similar packages:
virtual PC simulator for Dynamips
VPCS can simulate up to 9 PCs. You can ping/traceroute to them or ping/traceroute to other hosts/routers from the VPCS.
VPCS is not intended to be a fully functional PC, but is a tool to be used together with Dynamips.
Other Packages Related to vpcs
dep:

libc6 (>= 2.15) [amd64, mips64el, s390x]

GNU C Library: Shared libraries
also a virtual package provided by libc6-udeb

dep:

libc6 (>= 2.17) [arm64, ppc64el]

dep:

libc6 (>= 2.28) [armel, armhf, i386, mipsel]