Package: nm-tray (0.4.3-2 and others)
Links for nm-tray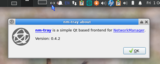 Debian Resources:
Download Source Package nm-tray:
Maintainers:
External Resources:
Similar packages:
Simple Network Manager frontend written in Qt
nm-tray is a simple NetworkManager front end with information icon residing in system tray (like e.g. nm-applet). It's a pure Qt application. For interaction with NetworkManager it uses API provided by KF5::NetworkManagerQt -> plain DBus communication.
This package contain the application files.
Other Packages Related to nm-tray
dep:

libc6 (>= 2.14) [amd64]

GNU C Library: Shared libraries
also a virtual package provided by libc6-udeb

dep:

libc6 (>= 2.17) [arm64, ppc64el]

dep:

libc6 (>= 2.4) [not amd64, arm64, ppc64el]

dep:

libgcc1 (>= 1:3.0) [not armel, armhf]

Package not available

dep:

libgcc1 (>= 1:3.5) [armel, armhf]

dep:

libkf5networkmanagerqt6 (>= 5.23.0)

Qt wrapper for NetworkManager - library

dep:

libqt5core5a (>= 5.12.2) [amd64, i386]

Qt 5 core module

dep:

libqt5core5a (>= 5.6.0~beta) [not amd64, i386]

dep:

libqt5dbus5 (>= 5.0.2)

Qt 5 D-Bus module

dep:

libqt5gui5 (>= 5.7.0) [armel, armhf]

Qt 5 GUI module

dep:

libqt5gui5 (>= 5.7.0) [not armel, armhf]

Qt 5 GUI module

or libqt5gui5-gles (>= 5.7.0)

Qt 5 GUI module — OpenGL ES variant

dep:

libqt5network5 (>= 5.0.2)

Qt 5 network module

dep:

libqt5widgets5 (>= 5.11.0~rc1)

Qt 5 widgets module

dep:

libstdc++6 (>= 4.1.1) [not armel, armhf]

GNU Standard C++ Library v3

dep:

libstdc++6 (>= 4.3.0) [armel, armhf]

dep:

network-manager

network management framework (daemon and userspace tools)

dep:

qterminal

Lightweight Qt terminal emulator
virtual package provided by cool-retro-term, deepin-terminal, eterm, gnome-terminal, kitty, konsole, lxterminal, mate-terminal, mlterm, mlterm-tiny, pterm, qterminal, rxvt-unicode, sakura, stterm, terminator, terminology, termit, tilix, xfce4-terminal, xiterm+thai, xterm