Package: mpv (0.35.1-4)
Links for mpv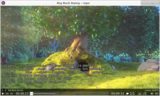 Debian Resources:
Download Source Package mpv:
Maintainers:
External Resources:
Similar packages:
video player based on MPlayer/mplayer2
mpv is a movie player based on MPlayer and mplayer2. It supports a wide variety of video file formats, audio and video codecs, and subtitle types.
Changes from mplayer2 to mpv include:

 * Removal of lots of unneeded code to encourage developer activity
 * Better OSD rendering
 * Cleaned up terminal output
 * Improved OpenGL output
 * Encoding functionality (replacement for mencoder)
 * Wayland support
 * Support for playing URLs of popular streaming sites
 * Screenshot improvements
 * ...

See mpv(1) for more info regarding changes between MPlayer, mplayer2 and mpv.
Other Packages Related to mpv
rec:

xdg-utils

desktop integration utilities from freedesktop.org

rec:

yt-dlp

downloader of videos from YouTube and other sites
sug:

libcuda1

NVIDIA CUDA Driver Library
Download mpv
Download for all available architectures

| Architecture | Package Size | Installed Size | Files |
| --- | --- | --- | --- |
| amd64 | 1,179.1 kB | 3,304.0 kB | [list of files] |
| arm64 | 1,111.4 kB | 3,268.0 kB | [list of files] |
| armel | 1,053.2 kB | 2,886.0 kB | [list of files] |
| armhf | 1,056.7 kB | 2,454.0 kB | [list of files] |
| i386 | 1,267.0 kB | 3,414.0 kB | [list of files] |
| mips64el | 1,089.9 kB | 3,472.0 kB | [list of files] |
| mipsel | 1,107.9 kB | 3,331.0 kB | [list of files] |
| ppc64el | 1,263.0 kB | 3,908.0 kB | [list of files] |
| s390x | 1,103.4 kB | 3,348.0 kB | [list of files] |